Tubal ligation surgery in Thane
What is Tubal Ligation Reversal?
A tubal ligation reversal (TR), also known as a Tubal Anastomosis, is a surgical treatment in which a surgeon repairs a woman's fallopian after she has previously had a tubal ligation in order to restore her natural fertility. Book appointment for Tubal ligation surgery in Thane.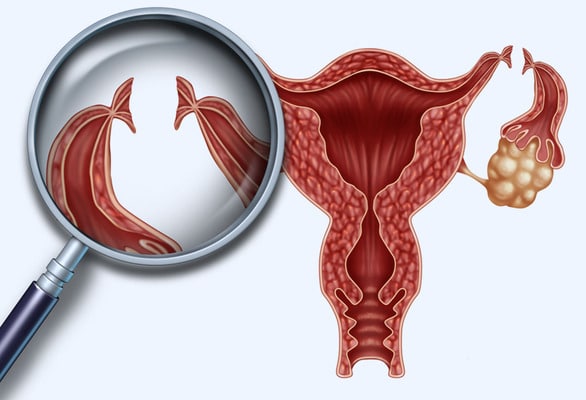 Tubal ligation reversal surgery is performed to enable a woman who has had her tubes tied to get pregnant again. In this reversal procedure, the fallopian tubes are reconnected. A tubal ligation cannot usually be reversed if the tube is too short or damaged.
Pregnancy rates following tubal ligation reversal vary between 30 and 87 percent, depending on the woman's age and the kind of tubal ligation surgery she had.
What is the Procedure for Tubal Reversal?
To better examine the fallopian tubes, the doctor will implant a laparoscope with a light and camera via an incision in the lower abdomen during surgery.
The doctor will then make a small cut near the bikini line and remove any clips or rings that were previously used to clamp the fallopian tubes closed. The fallopian tubes are then reattached to the uterus by the surgeon. If successful, tubal reversal opens the tubes to allow an egg to travel to the uterus during ovulation.
A tubal reversal takes around two weeks to recover completely. Most women are able to return to work two to four days after surgery. The doctor will prescribe pain relievers to help with recovery, and the incision site will be monitored for irritation or infection.
What are the risks of reversing a tubal ligation?
Tubal ligation reversal is considered major abdominal surgery and carries all of the risks associated with surgery, including bleeding, damage, infection, and anesthesia reaction.
Women who get pregnant following a tubal reversal are more likely to have an ectopic pregnancy, in which the embryo implants someplace other than the uterus.
A tubal reversal may also result in the formation of new scar tissue, which retains the fallopian tubes closed. In this case, IVF may assist in achieving pregnancy.
What are the advantages of reversing a tubal ligation?
Tubal ligation reversal procedure allows women and couples who have changed their minds about having additional children to conceive naturally or by intrauterine insemination (IUI).
What are the Pregnancy rates after tubal reversal?
The two most important variables influencing pregnancy rates following tubal reversal surgery are age and method of tubal ligation. Women under the age of 30 who underwent a ring or clip ligation had the highest chance of becoming pregnant (about 87 percent).
The lowest pregnancy rates (about 30%) are often reported in women over the age of 40 who underwent a ligation, which involves removing the end of the fallopian tube.
Tube length may also influence pregnancy rates after reversal. Prior to tubal ligation, fallopian tubes are generally 10-12 cm long. Women who have at least 7.5 cm of tube at the time of ligation reversal had an 80 percent probability of becoming pregnant after tubal ligation surgery.
For more information & consultation on Tubal ligation surgery in Thane, visit Complete Women's Care at Ghodbunder road, Thane or contact us on 9833074977 or simply fill in your name and number & one of our team member will get in touch with you soon. Our team of experts along with Dr. Arohi Tasgaonkar, MS (ObGy), DNB (ObGy), and one of the best Gynecologist in Ghodbunder Road Thane will help you out in understanding your problem and guide you through every stage of your treatment.