Abortion Specialist in Thane
A medical abortion, also known as a medical termination of pregnancy, is a process in which medicine is used to stop a pregnancy. It is the safest and most effective during the first trimester of pregnancy. This process requires no surgery or other methods and may be conducted in a hospital under the guidance of a doctor. Know for about safe abortion from our Abortion specialist in Thane, Dr. Arohi Tasgaonkar.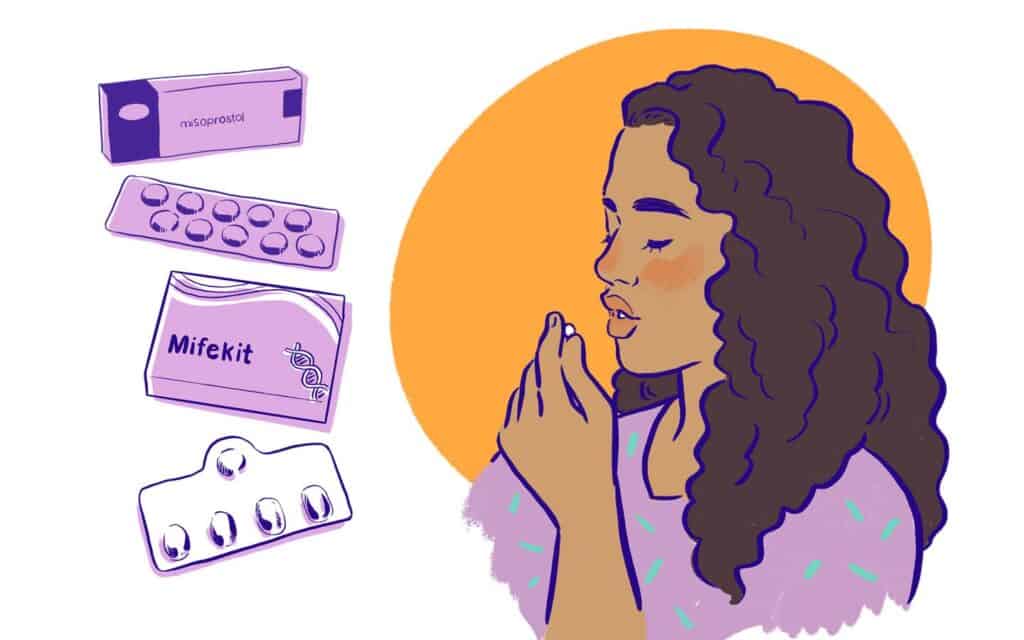 What are the types of abortion?
Medical abortion
Surgical abortion
What exactly is a medical abortion?
A medical abortion involves the administration of two sets of tablets. Mifepristone is the first pill. This medication inhibits the production of hormones that enable the pregnancy to grow. Then take a second set of medications called misoprostol a few hours or 1-2 days later. These drugs force the uterus to contract, causing the pregnancy to be expelled. Most individuals compare their experience to a miscarriage or a heavy menstruation.
Some individuals choose medical abortion since it is private, can be done at home, and does not need a surgery. The abortion pills work 98% of the time to stop the pregnancy. If their pregnancy does not stop or if they have excessive bleeding, around 2% of patients will still need a uterine aspiration after using the drugs.
The reasons for terminating a pregnancy medically are typically extremely personal. Most women would rather undergo an abortion to stop an undesired pregnancy. It is also a suggested treatment if the woman has had a miscarriage. If the expecting woman has a medical condition that might harm her or the baby's health, a medical abortion may be the best choice. A medical abortion is considered a last option. Several tests will be performed by doctors to evaluate if the pregnancy is risky to the mother or child.
Who is eligible for medical abortion?
Patients are advised to be fully clear about their choice before undergoing a medical termination, since reversing the consequences may be harmful.
Medical abortions are appropriate for women who desire to terminate an undesirable pregnancy while still in their first trimester. If the patient has miscarried, a medical abortion is performed to remove the foetal and placental tissue.
Medical abortion is not appropriate for:
Women who have been pregnant for over nine weeks
Cases of ectopic pregnancy suspected
Individuals who are using an intrauterine device (IUD).
Individuals suffering from blood problems, heart disease, lung disease, seizure disorder, or certain hereditary diseases
Women who are taking blood thinners or steroids on a long-term basis
What are the risks of a medical abortion?
Medical abortions are known to induce cramping and bleeding for up to two weeks, therefore patients are advised to discuss potential side effects with their physicians. Some common ones are:
Nausea
Vomiting
Dizziness
Headaches
Diarrhea
Hot flashes
What is Surgical abortion?
In this pregnancy, it is removed by a procedure that takes place in a clinic hospital.
It does not require any abdominal incisions.In this case, the instruments are passed through the vagina and cervix into the uterus to remove the pregnancy. The procedure is done under IV sedation or local anesthesia.
The procedure takes 15 to 20 minutes. After the procedure, you have to stay for 2 to 4 hours in the hospital, depending upon your recovery.
After the procedure, you might have abdominal pain and some vaginal bleeding for a few days.
Is abortion is legal India?
Abortions are legal in India in specific circumstances, since abortion regulations in India differ for unmarried girls, rape victims, and married women. With the rising crime rate in foeticides and infanticides, the abortion laws in India made it illegal to detect the sex of the foetus, thereby decreasing the rate of abortion.
Is abortion safe in India, and how successful is it?
Yes. Abortion is a safer method to terminate the pregnancy. Abortion is a less invasive process, although it is less likely to occur when performed early in pregnancy, with a local anaesthetic, and with care taken to avoid infection after the surgery. Abortion has a success rate of 95 to 97%.
What are the possibilities of becoming pregnant after having an abortion?
It is possible to get pregnant again soon after having an abortion. This is because you may ovulate (release an egg) between 1 and 2 weeks following the surgery.
Abortion allows your menstrual cycle to begin, which is the time between the first day of your period and the day before your next period. Menstrual cycles vary in length from person to person, but you should receive a period every 28 days on average. Women with a 28-day menstrual cycle often produce an egg from their ovary on or around day 14. (ovulate).
Ovulation is the time of the month when you are most likely to get pregnant (most fertile). Some women, on the other hand, have a shorter menstrual cycle and may ovulation as early as day 8. This implies that it is probable to get pregnant within 8 days after having an abortion.
Doctors advise avoiding pregnancy for at least three months to enable the body to heal following an abortion.
For more information & consultation on Safe Abortion in Thane, visit Complete Women's Care at Ghodbunder road, Thane or contact us on 9833074977 or simply fill in your name and number & one of our team member will get in touch with you soon. Our team of experts along with Dr. Arohi Tasgaonkar, MS (ObGy), DNB (ObGy), and one of the best Abortion specialist in Thane will help you out in understanding your problem and guide you through every stage of your treatment.